Here's what you need to know about the metaverse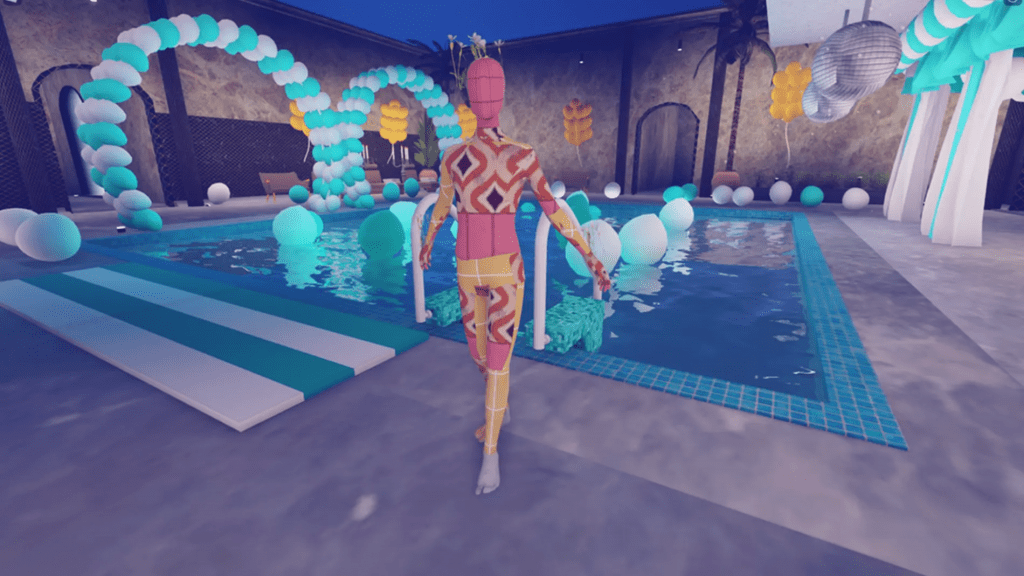 Remember when "that's so meta" was just a thing we said about basically everything? Well, since the pandemic has "turbocharged" the digital transformation (we're borrowing that phrasing from a recent Microsoft report), things have gotten a whole heckuva lot more meta. We figure it's high time we take a look at the move towards the "metaverse" through an XP lens — before our avatars get left in the virtual dust.
The metaverse is often described as the next version of the internet. It's an immersive place for us to virtually work, play, shop, compete, socialize — the (virtual) sky's the limit. For those of you who like a side helping of backstory, the most recognizable version of the metaverse was first popularized by the novel and movie Ready Player One. The story is set in a future where IRL society has all but fallen apart and everyone spends their lives inside a VR universe called the OASIS. This metaverse is total immersive XP — it has its own currency, jobs, school and everything else that makes up a "real" world.
To quote RP1, "People come to the [metaverse] for all the things they can do, but they stay because of all the things they can be." Whoa, deep, right? It really is, though — people (yes, largely the younger ones, but that's changing) are finding real freedom in these metaverses and brands are increasingly realizing that these are the spaces they have to operate in if they want to create meaningful, relevant experiences. The metaverse is a living, breathing place where many find digital identities as meaningful as IRL identities.
The existing early-stage metaverses exist primarily in the gaming world. Fortnite made headlines last year with their virtual concert XP and is currently entrenched in a legal battle with Apple over who can facilitate purchases of their virtual currency. Roblox, which had a splashy IPO earlier this year, has partnered with musicians as well as commercial brands to bring unique XP to their platform. Perhaps most interestingly, the fashion industry is making an early splash in today's metaverses, creating immersive branded environments to engage new audiences.
While these entertainment experiences are key components of metaverses, they don't fully address the space's need for IRL-comparable social interaction and economic activity. To that end, Facebook is getting in on the game with its VR metaverse called Horizon and Amazon is reportedly working on their own virtual world Amazon Mall.
Visiting a metaverse is an experience in itself — we don't want to be too meta, but the metaverse basically is XP. We know it's a lot to take in, but as we look toward the future, we're excited about all the ways that this past year's digital transformation will allow for virtual XP beyond what we had dreamed of in the before times.
These recent examples might spur some inspirational metaverse thinking:
Live that 'Mannequin' life in Roblox's Gucci Garden: Gucci partnered with Roblox to launch the Gucci Garden, an interactive metaverse-based experience for players that feels 'distinctly Gucci' and complements the in-game swag they've created. "In the last six years, [Creative Director Alessandro Michele] has created a Gucci Metaverse but it's not necessarily a digital manifestation, it's a narrative," said Gucci CMO Robert Triefus.
Fashion is betting big on gaming: Every fashion house from Louis Vuitton to Burberry is creating stylish avatar swag and, in doing so, they're reaching a market that might have otherwise not shown interest in their gear. Balenciaga went as far as designing their fall fashion show as a video game called Afterworld: The Age of Tomorrow. They know that IDL fashion will only amplify the hype around the IRL goods.
Stay tuned as we report more from the metaverse trenches…
Subscribe to the XP Land newsletter. Follow us on LinkedIn, Instagram, Facebook and Twitter.