Defining XP: What it is (and a bit on what it's not)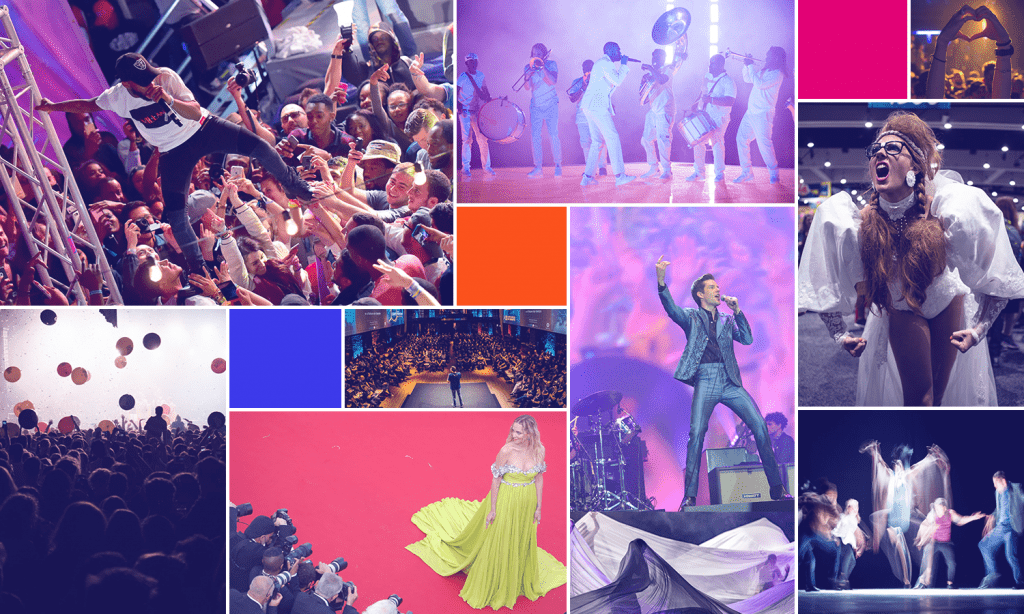 Here's what we mean when we say "XP"
The truth is, the experiential world does not have neatly defined edges. For some people, it may mean venue tours and party planning. For us, experiential (or XP) is the magic that happens at the intersection of art, science and impact. Whether driven by a creator, a brand, an artist or an organization, XP encompasses the events and experiences created to drive engagement and grow communities. It's all about building connections.
But let's get a little more specific…
XP, Defined:
Most people hear "experiential" and go straight to "marketing." And they're not wrong! Just think back to Refinery29's groundbreaking and brand-integrated 29 Rooms, the last existing Blockbuster that was turned into an Airbnb-able sleepover destination or the record-breaking collaboration between K-pop megastars BTS and McDonald's on a meal, a line of merch and ad content.
But beyond brand experiences, XP also, crucially, encompasses creator-driven concerts; festivals of all kinds, from food to film to art and beyond; cultural attractions; immersive entertainment including VR and AR; conferences and industry gatherings that have broader consumer appeal (think CES and Cannes Lions); award shows and their surrounding festivities; sporting events; retail experiences; innovative product launches… We could go on, but hopefully this helps paint a picture.
Of course, XP is also a big business. As one expert wrote in Forbes only a few short years ago, "Most people go out of their way to avoid commercials, yet most will also go out of their way for a new experience." And, according to one study, after participating in experiences, 91 percent of consumers have more positive feelings about brands, 74 percent are more likely to purchase products and 65 percent understand a brand's products better than they do through any other advertising channels. Those are huge numbers that any organization or creator — no matter their raison d'être — cannot ignore.
Our Thesis on Successful XP
We here at XP Land have developed a thesis (from combined decades of working in the industry ourselves) about what makes some experiential projects succeed while others fall flat. We believe that the best XP — the XP that really makes a mark on the industry, that captures hearts and minds and inspires wows around the world — is designed with art, science and impact working hand-in-hand.
What does that look like? When developing an experience — whether an art exhibit or a product rollout or whatever else — good creators consider how they want to make their audience feel or act as a result of having undergone the experience (this is the impact). They also take into consideration data around who that audience is, where they exist physically and digitally, how they like to consume content and what motivates them to engage and to stay engaged (there's the science). But all those data points only get you so far. After digesting them and putting together the best data-driven strategy possible, something else takes over (that'd be the art).
So there you have it, a formula for XP creation: Art + Science + Impact. The most successful experiences have moments for independent discovery and response built in. They have elements that the audience can use as jumping off points for creating their own story. Great experiential makes smart, strategic decisions about the execution of creative, artistic ideas.
Looking Forward
When the COVID-19 pandemic swept across the globe in 2020, the experiential world was upended with it. Overnight the typical avenues for engagement — with each other and with brands — disappeared. But no sooner did the world retreat into lockdown than experience-makers got to work reimagining events for a digital reality, breaking through unprecedented boundaries to develop new creative ways to stay connected. As Rachel Boucher, Event Marketer's executive editor, put it: "if there is a silver lining to all of this, it's that experiential could be entering its most creative, and most strategic, period yet."
One thing is for certain: the experience economy — where what we do is seen as more valuable than what we own — is thriving, and XP is leading the way.
Subscribe to the XP Land newsletter. Follow us on LinkedIn, Instagram, Facebook and Twitter.